Lead Moderator Emeritus
Staff Member
Brethren,
I am pleased to give the following update on Louisiana's newest edidtion in the Traditonal Observance Lodge format. As you are all very much aware, almost a year ago, the distinguished Brethren from LA set forth in creating this new Lodge that is to be operated under the Scottish Rite Ritual* format. As a charter member of this new lodge and dual member of TX and LA, I am honored to offer the following update:
"O.K. Allen Lodge was granted a dispensation to operate as a masonic lodge by M.W. Bro. Woody D. Bilyeu, Grand Master of Masons in Louisiana, in December of 2010. On June 8, 2011, M.W. Bro. B.J. Guillot instituted the lodge under dispensation, and on February 4, 2012, M.W. Bro. Guillot signed a charter officially designating the lodge as O.K. Allen Lodge, No. 33, and granting it full authority to work as a lodge under the Grand Lodge of the State of Louisiana." ~ Lodge Secretary
"O. K. Allen Lodge No. 33 F.&A.M. of the Most Worshipful Grand Lodge of Louisiana is the second ever Traditional Observance Lodge in the State of Louisiana. Named after the late Governor and Freemason Oscar Kelly Allen, Bro. O. K. Allen was born in Louisiana but received his degrees in a Texas Lodge so its very appropriate to have a Bro. Master Mason from Texas as one of our charter members." ~ W.:B.: Bryan Price, Worshipful Master
Brother Oscar Allen, did indeed recieve all of his degrees within the jurisdiction of the GLoTX. Bro. Allen was Raised to the Sublime Degree of a Master Mason in Waxahachie, TX. I feel that it is important to mention that along with the TX Brother, Six Past Grand Masters, and the current Deputy Grand Master will be affixed to the Charter documentation.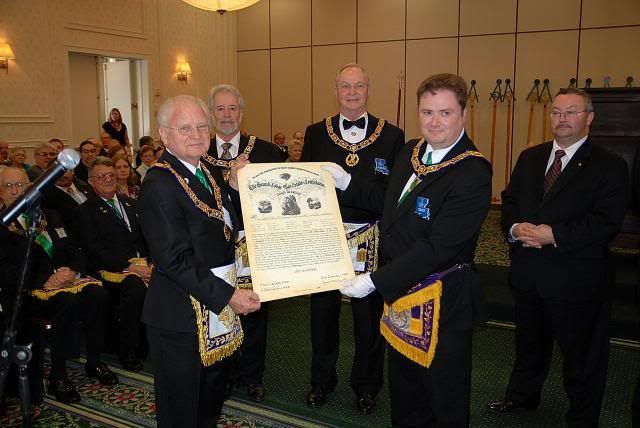 IN THIS PHOTO (Sunday, February 5, 2012 at the 201st Grand Communication of the Grand Lodge of Louisiana) - Most Worshipful Bro. B. J. Guillot, Grand Master of the GLoLA presents Worshipful Bro. Bryan Price, Worshipful Master and other Charter Members the Charter for O. K. Allen Lodge No. 33. It is historically interesting that this Lodge is the only new lodge to receive its charter in the same year as the 200th anniversary of the chartering of the GLoLA. 1812-2012
http://www.facebook.com/home.php#!/photo.php?fbid=10150776960724689&set=p.10150776960724689&type=1&theater
(*) The Brethren have chosen to not operate in the SR Format at present.
Please join me in congratulation theses Brethren!!
Stewart M. Owings
Charter Member - O. K. Allen Lodge No. 33
Last edited: