Administrator
Staff Member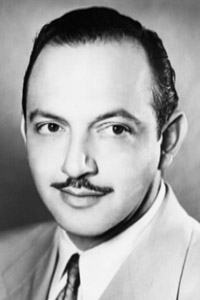 May 30 1908 - July 10, 1989
Known as "the Man of 1,000 Voices," Melvin Jerome Blank was an accomplished bassist, violinist and sousaphone player. Early in his career he played in the NBC Radio Orchestra and conducted the pit orchestra at the Orpheum Theatre in Portland.
A voice specialist from radio, movies and TV, Blanc was rarely seen by his audience although widely recognized as the voice of virtually every major Warner Brothers cartoon character except Elmer Fudd. He is perhaps best known for the voice of Bugs Bunny. Joining the Warner Bros. studio in 1936 (1937?), Blanc's voice was also featured as the original voice of Woody Woodpecker in 1940. The following year he was signed to an exclusive contract with Warner Bros.
His on-screen appearances were rare, but he had amusing moments in Neptune's Daughter (1949), Champagne for Caesar (1950), and Kiss Me, Stupid (1964); he also provided offscreen voices for Strange Brew (1983). His autobiography, That's Not All, Folks! was published in 1988.
Over the years, Blanc received many awards from civic organizations. Among them were the United Jewish Welfare Fund Man of the Year and the Show Business Shrine Club's first Life Achievement Award. One of Blanc's favoured charities was the Shrine Hospital Children's Burn Center.
Member:
Mid Day Lodge No. 188, Oregon
Source: Philatelic Freemason, May-June 2001